Final timelapse video duration
Common time-lapse settings – Interval table
| Event to be time-lapsed | Seconds between shots (interval) | Total event real time duration |
| --- | --- | --- |
| Clouds: fast moving | 1s | 20min |
| Clouds: slow moving | 10s | 2h |
| Sun: moving across a clear sky | 20s to 30s | 4h |
| Moon: moving across a clear sky | 20s to 30s | 4h |
| Stars: moving across the sky | 15s to 60s | 4h |
| Sunrise | 1s to 3s | 40min |
| Sunset | 1s to 3s | 40min |
| Moonrise | 1s to 3s | 40min |
| Moonset | 1s to 3s | 40min |
| Rainbow | 1s | 20min |
| Construction projects | 5min to 15min | Several hours |
| Crowds moving | 1s to 3s | 40min |
| Drivelapse | 1s | Variable |
Ever wondered how long should you leave your camera taking pictures if you want to obtain a time lapse video of a certain length? Or how long will your time lapse movie be if you've already taken a bunch of shots? Or better yet: how many seconds should your camera wait between picture and picture to make the perfect timelapse? Whether you're looking for a time lapse calculator or an interval calculator, we've got your back.
The timelapse calculator above will be one of your best allies in your time lapse photography adventures. Doing photo math, manually calculating the amount of time your timelapse will take or the interval you should be using is tedious and you can make errors, so this tool will save you the hassle. This app will calculate for you the video size, the amount of memory in GB you'll need to bring, the FPS your timelapse movie will need… and a bunch of other parameters to make sure you're well covered.
It's a simple website, so you don't need to install any app or additional software. Just open this website and use it. Plus, this app is free forever.
Oh, and rest assured, this app is mobile-friendly. It works both for Android and for iPhone. This time lapse video calculator has specifically been designed and works perfectly in smartphones, so you can use it like any other app. Go ahead and save this page to your home screen or to your bookmarks – you'll find it useful whenever you're out on the field with your camera! Access it anywhere, anytime.
But wait, that's not all. You'll love this: below the calculator you'll see a button. If you press it, the app will take your calculated time-lapse settings and will start a countdown with the exact parameters you'll need, so you can really use this as a tool when you're shooting to later create a timelapse from your photos.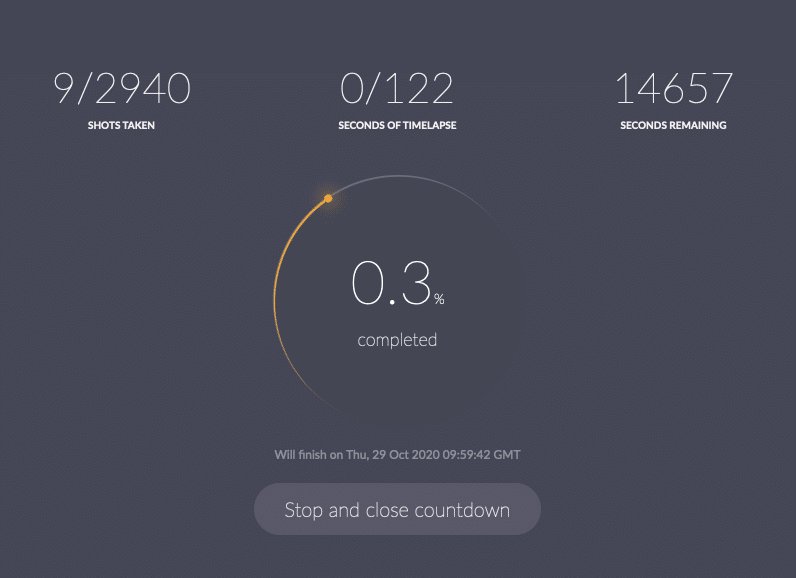 So whether you need a 35 second timer or a countdown to monitor your time lapse, this calculator will come in very handy.
How to use the time lapse calculator
First, lets start by refreshing some key concepts:
Real-time event duration: You will start recording your time-lapse now and you'll stop X minutes from now. That's the real wall time that's passed. It's usually hours.
Final timelapse video duration: with whatever you've recorded in that time, you'll make a time lapse movie that will have some length. That's the length of the final time-lapse video. It's usually seconds or minutes long.
Frames Per Second (FPS): This final timelapse will compress all the pictures, shots or frames taken into a shorter video. If you have taken 24 pictures and you set up your time lapse to be 24FPS, you'll have 1 second of final time-lapse video. If you set the FPS to 12, you'll have 2 seconds of final time-lapse video, and so on. FPS answers the question: "how many pictures do I need to take to make one single second of time-lapse movie?".
Seconds between shots (Interval): That's the amount of seconds you will wait before taking the next picture. So if you record for a full hour (real time) and you take a picture every 60 seconds, you'll end up with 60 pictures to put into your time-lapse.
Total shots needed: If you want your time-lapse to be of a certain duration, and your FPS is fixed, you're going to need some amount of shots to make it. Say you want 1 minute of final time-lapse. And say you want your time-lapse to be 30FPS. Well, you're going to need 30*60 = 1800 pictures to make your timelapse.
Average picture size: that's how much space your pictures take on a memory card or hard drive. (It's usually some Megabytes – MBs)
Memory needed: The total amount of memory (in Gigabytes – GBs) you'll need to record the time-lapse video with the current settings.
To use the time-lapse calculator, just start playing with each field. Once you understand the basic concepts, you'll quickly notice it's very intuitive and easy to grasp.
This calculator will pretty much calculate any possible setting based on rest of parameters, so just play around with it until you're happy with the result!